Argentina Hunting
main characteristic is the quality of its services and its responsibility in the organization of every hunting trip, paying special attention to the objectives planned by each hunter in order to guarantee a successful hunt according to the hunter's expectations. The supervision of the hunting expedition is done by the outfitter in an absolutely personalized way, starting from the reception of the visitors at the local airport during their arrival, up to the moment of returning to the country of origin.
Argentina Hunting
proudly provides the best available hunts in Argentina given that it's services are offered in the best hunting areas all over the country. In that sense, Argentina Hunting has available hunting areas in the forest of La Pampa province, in Patagonia's mountains, in the plains of Buenos Aires province, in the mountains of Cordoba province, in the thick bush of Santiago del Estero and in many other remarkable hunting destinations of the country. Moreover, foreign hunters are offered all the prodigal fauna which this South American country is proud to have. They are able to hunt pieces of all kinds of quality in the different varieties of deer (red, axis and fallow deer), wild boars, cougars, wild goats, water buffaloes, blackbuck antelopes, etc., either in total freedom -without the presence of fences that limit the movement of the wild fauna- or inside large fenced places, especially adapted for the hunter to get an excellent trophy in fair chase. Trophies are the product of years of genetic improvement and constant animal care. We have the means to assure a comfortable, pleasant and successful stay.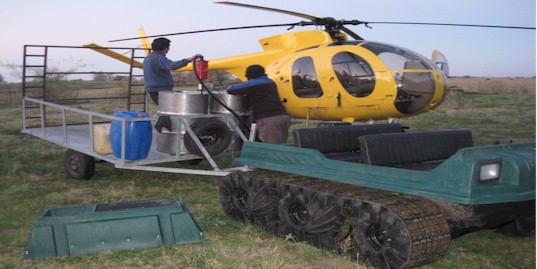 Our way of working
Given that the main aim of Argentina Hunting is to offer hunters responsibility as well as reliability so that they can achieve their own goals during the hunt, we prefer hunters to choose their own priorities during their visit to our country. We offer hunts suiting each hunter needs, with a wide range of possibilities, allowing each contingent to choose the most suitable type of accommodation, quantity, quality and variety of trophies, hunting place, etc. This means that -if hunters are not limited by a budget- they can organize an excellent hunt with first class international trophies and five star services. Otherwise, they can make a hunting trip where they will be able to get a representative trophy of the selected species, enjoying all the necessary facilities to have a nice stay, though not with the previously mentioned luxury but much more economical.
For this reasons, we'd like you to contact us via e-mail so as to specifically know what, how and when you want to hunt, and thus prepare a budget meeting your specific requirements.